Old England: A Pictorial Museum (page 45/52)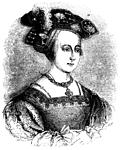 1423.—Hever Castle. (From an Original Sketch)

Anne Bullen [Anne Boleyn] behaved throughout the whole affair with the utmost prudence. Shehad determiend to be the king's wife, not his mistress; and from that determnation ensued events, the importance of which, in relation to the destinies of the country, it is hardly possible to overrate. Hever Castle (Fig. 1423), Kent, was the family residence [...] [more...]



Birthplace of Sir Walter Raleigh [more...]

1674.—Plan of Buckhurst House, Sussex.

A plan of a sixteenth-century mansion, demolished it seems in the eighteenth century. The text does not seem to explain the numbers on the plan; presumably the woodcut was made for some [...] [more...]
Note: If you got here from a search engine and don't see what you were looking for, it might have moved onto a different page within this gallery.
---