Books for Sale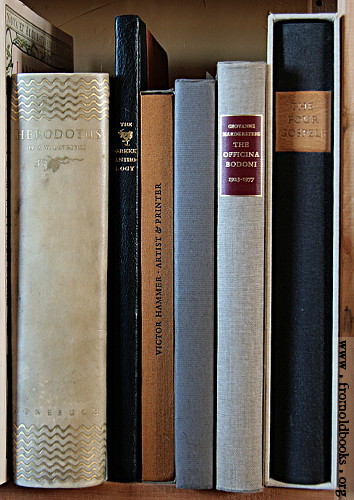 I am not a professional bookseller. Just a private person. I used to collect books, years ago, and that's where most of the pictures and texts come from on this Web site. But now times are hard and so I'm offering some of the books for sale privately.
The prices are all negotiable. I am in Canada, and shipping will be extra, dependng on where you live. I can't trust Canada Post, so I will normally use FedEx unless you say otherwise. If you spend over $1200 you can have free shipping up to $200. Prices are in US Dollars because that's easiest for most people, but I can also accept other currencies via paypal. If you are in Canada say where as there may be sales tax; if you're an individual I'll pay it for you.
To make an offer, or to ask for more details, send mail to liam at holoweb dot net, with "book offer" in the subject line. Please remember to say where you live (including the country and postcode!) so I can estimate shipping costs.
I have provided links to other similar copies of these books on abebooks, but these books are not actually listed anywhere else: you can only buy them from me directly.
Update as of Dec 2016 the direct links to abebooks aren't working, sorry - I'll try and fix them. Here is a link to abebooks.
Some Fine Press and Rare Books
Alphabetum Romanum, by Felix Feleciano

You might also be interested in a book about the Officina Bodoni where this book was produced, see next item..

$2,000

The Officina Bodoni. An Account of the Work of a Hand Press 1923-1977. Edited and Translated by Hans Schmoller. An edition of 1500 copies.

My copy is in excellent condition and comes in a cardboard slipcase. (the first 99 copies had an additional volume of illustrations and sell for over $1,000 today)

$250

The Works of Edmund Spenser edited by Professer W. L. Renwick, printed at the Shakespeare Head Press in St Aldates Oxford and published for the press by Basil Blackwell in 1930.

This is a really stunningly beautiful fine press edition. Many pages are stil uncut (they have deckle edges) and the illustrations are truly fabulous. I have scanned some of them here

Ths book is in excellent condition, except for some fading (as is common) to the colour of the spines.

This set seems fairly rare.

More detailed description from David Brass Rare Books

$2,000

The Greek Anthology edited by F. L. Lucas (1936) at the Golden Cockerel Press. Jolly good condition. Black pigskin backed orange cloth. Copy 126 out of a limited edition of 206 copies made by one of the most famous early fine presses. Includes fourteen zinc-engraved illustrations by Lettice Sandford and printed on hand-made paper by F. J. Head. Uses 18pt New Hellenic Greek and Eric Gill's Perpetua Roman.

$750

The Four Gospels with type and engravings by Eric Gill, in collaboration with Robert Gibbings, and produced by the Golden Cockerel Press; my copy is a fac-simile bound in black buckram with a heavy slipcase, from 1987 in a limited edition of 480 copies. The original is on Abebooks starting at around $15,000 if you're curious, but even this 1987 facsimile edition lists at over a thousand dollars there. This has been described as the most beautiful book produced for five hundred years; at any rate students of type and book design generally view this book as the pinnacle of combining illustration and text. It is a folio over a foot tall.

$750

The History of Herodotus of Halicarnassus translated by G. Rawlinson and Annotated by A. W. Lawrence, with nine wood engravings by V. Le Campion and a series of new maps by T. Poulton, to which is added a life of herodotus and the Behistun Inscription. The Nonesuch Press 1935.

I bought this book partly because of the subject matter, partly because it's a beautiful physical object, but mainly because of the page layout, which is reminiscent of Biblical commentaries from the Middle Ages.

$700

[sold]

Victor Hammer, Artist & Printer Lexington, The Anvil Press, 1981, quarto, linen, with slipcase. Copy 446 out of 500 numbered copies.

This book was designed by Martino Mardersteig and printed in Verona; includes an essay by Rudolf Koch, plate reproductions of Hammer's works, essays by Ulrich Middledorf, R. Hunter Middleton, Hermann Zapf and W. Gay Reading Jr. Includes extensive lists of Hammer's works.

There are some marks on the slipcase from rubbing; otherwise as far as I can tell an excellent copy of a collectible edition.

$175

Printing in Oxford & Leiden/ Drukwerk in Leiden & Oxford. A joint project between members of the Oxford Guild of Printers in England, and Stichting Drukwerk in de Marge in Holland.

A set of seventeen pamphlets, most of which seem to have been printed in a limited edition of 150 or so copies and are numbered, together with a folded index sheet. There is an elegent presentation case with marbled blue paper on the outside. The pamphlets were printed at different presses in 1989 and 1990.

$270
To make an offer, or to ask for more details, send mail to liam at fromoldbooks dot net, with "book offer" in the subject line. Please remember to say where you live (including the country!) so I can estimate shipping costs.