Memorials of Hampshire. (page 1/3)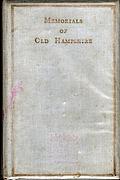 Title: Memorials of Hampshire.
City: London
Date: 1906
Total items: 12
out of copyright (called public domain in the USA), hence royalty-free for all purposes usage credit requested, or as marked.
Some sample images
Pictures from Memorials of Old Hampshire Edited by G. E. Jeans, M.A., F.S.A., London, Bemrose and Sons, 1906.
Canon George Edward Jeans was Vicar of Shorwell and Rector of Mottiston (later combined into Vicar of Shorwell-with-Mottiston), Isle of Wight. He was a Fellow of Hertford College, Oxford. He was vicar of Shorwell from 1888 and died on the 7th of August 1921; his obituary in Wisden's Almanack said that he was an enthusiastic cricketer.
The text is hence out of copyright. Individual pictures may still be in copyright, but I have checked all that I have scanned and found most of them to be OK; the remaining are probably out of copyright, and I have marked the collection public domain. All photographs in this book are in any case out of copyright.
Note: If you got here from a search engine and don't see what you were looking for, it might have moved onto a different page within this gallery.
---