Old England: A Pictorial Museum (page 38/52)
1026.—Tomb of the Boy Bishop, Salisbury

"But there is one monument of quite a unique character—to a chorister, or boy-bishop. (Fig. 1026.) It was discovered in the prelacy of Bishop Duppa, under the seats near the pulpit, and is now placed in the nave. The Rev. J. Gregorie, a prebend of Salisbury at the time, wrote a dissertation on the subject of boy-bishops, from which it appears that [...] [more...]

There is another more recent picture of Netley Abbey; see the Netley Location link. [more...]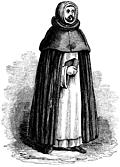 1029.—Dominican, or Black Friar

The monk shown here is a Black Friar; despite the text he has neither bare feet nor sandals, but wears shoes; he also has more ornate robes than the text would seem to imply. [more...]

Stone is a town in Cheshire.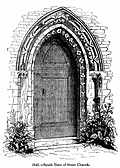 1046.—Stone Church, south door.

The South Door of an English Church generally has the font inside, and leads through the South Aisle into the West End of the Nave.


1048.—Hadley Church Tower and Beacon

"On top of a turret at the South West angle of the tower is an iron cresset, fire pan or pitch-pot, an almost unique survivor of other days. It was erected by the monks to guide wayfarers crossing Enfield Chase by night, and travellers to or from St Albans, or the north. The beacon may have been used as late as 1745 to provide an alarm to warn of the [...] [more...]
Note: If you got here from a search engine and don't see what you were looking for, it might have moved onto a different page within this gallery.
---