Old England: A Pictorial Museum (page 28/52)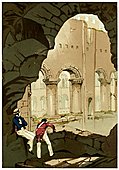 Plate 3.—Rochester Castle.—Interior.

Two men stand on a ruined wall and peer into the Keep; the men are brightly dressed. The castle here today was built in A.D. 1080 and the keep is also called Gundolph's Tower after its builder. [more...]




Oxford Castle, as it appeared in the Fifteenth Century.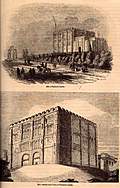 Vol I, p.398, figs 308 and 389: Norwich Castle

"[...] Hugh Bigod, who had sworn that Henry had appointed Stephen his successor, was the first to hold out against the king in the Castle of Norwich, which his ancestor had built. Norwich was a regular fortress, with a wall and ditch, an outer, a middle, and an inner court, and a keep. The bridge over one of the ditches and the keep still remain. [...] [more...]

"The successor of Henry Beauclerk was also an usurper. The rival pretensions of Stephen of Blois and the Empress Matilda filled the land with bloodshed and terror for nineteeen years. From the north to the south, from the Barbecans of York (Fig. 386) to the palaces of Winchester (Fig. 400), the country was [...] [more...]
Note: If you got here from a search engine and don't see what you were looking for, it might have moved onto a different page within this gallery.
---