Old England: A Pictorial Museum (page 25/52)


240.—Chairs. From Harleian MS. No. 603.

Harleian MS. 603 is an Anglo-Saxon illuminated psalter from the middle of the 10th century. This is the same manuscript as Fig. 239. The three chairs illustrated here do not look very comfortable, but they all lack perspective and the central one, with a minstrel leaning against it with his harp, appears to [...] [more...]


245.—Saxon Emblems of the Month of May.

This illustration of the month of May is taken from an Anglo-Saxon manuscript in the British Museum, Cotton Tiberius B 5. It shows people wearing simple clothing, with cloaks and shoes. At left a falconer wearing a long flowing robe sits on a horse; this would be someone of a higher or nobler class. Then in the centre we have two shepherds, one holding [...] [more...]



283.—Royal Costume, and the Harness and Equipment of Horses. (Cotton M.S.)

The Three Kings, the figures of legend that are derived from the story of the wise men, astronomers or astrologers who visited the infant Jesus. The Gospels do not say how many of them there were, but names three of them, and tradition says that there were exactly three. Some traditions make two of them white and one black, although since Jesus was [...] [more...]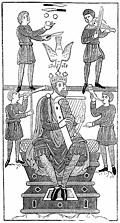 Note: If you got here from a search engine and don't see what you were looking for, it might have moved onto a different page within this gallery.
---