Old England: A Pictorial Museum (page 23/52)

192.—Arms and Costume of Danish Warriors

Two male soldiers are shown, one bearded and one beardless. On the right, a man with a headdress of some kind wears a short kilt or skirt, and has one hand resting on his thigh and the other holding a long thin sword by the blade (one has to assume that this picture was not taken from life?). He is wearing tights, seemingly without shoes. To his left, [...] [more...]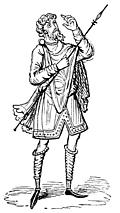 194.—Ringed Mail. Cotton MS. Claud. B, 4.

An illustration of a Biblical scene but with Anglo-Saxon costumes and weapons. A king (with a long forked breard) wears a crown, brandishes a heavy sword and carries a shield; he wears ring-mail. [...] [more...]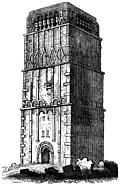 209.—Tower of Earl's Barton Church

The church in Earl's Barton, in Northamptonshire, is a work of several periods of our Gothic architecture; but the tower is now universally admitted to be of Saxon construction (Fig. 209). It exhibits many of the peculiarities recognised as the characteristics of this architecture. 1st, We have the "long stone set at the corner, and a short one lying [...] [more...]




229.—Residence of a Saxon Nobleman.

There's a lot going on in this Anglo-Saxon nobleman's house. The nobleman seems to have an open book upside-down on his lap and is handing something, possibly bread, to one of the beggars at his door, beggars who are cripppled, lame, barefoot, and in some cases wearing only underpants. I think one of them on the right might actually be a monkey. In [...] [more...]
Note: If you got here from a search engine and don't see what you were looking for, it might have moved onto a different page within this gallery.
---