Old England: A Pictorial Museum (page 20/52)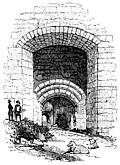 The ponderous walls of the Roman dominion are almost merged in the greater interest of the moated keep of the Norman conquest. It will be sufficient for us here to present engravings of the Norman works (Figs. 110, 111, 112), reserving their description for another Book. The area within the Roman walls of Pevensey is seven acres. The irregular form [...] [more...]

A ruined castle with broken towers overgrown with ivy looms in the background on a hill or mound; in the foreground people admire the view; to emphasise the pastoral nature [...] [more...]
112.—Interior of Norman Tower, Pevensey.

But the most important and interesting adaptation to another period of the Roman Pevensey is the Norman keep, the form of which is indicated on the Plan 106, at the south-east, and which was evidently fitted upon the original Roman wall so as to form the coast defence on that side. We purposely reserve any minute description of this very remarkable [...] [more...]

113.—The Thames at Coway Stakes.

Tall trees sway either side of a dirt road down which a cart is pulled way from us by a pair of heavy horses; two women and a dog approach us on the same road. In the background a barge is pulled along a wide, winding river by a team of maybe five horses walking along the riverbank. All [...] [more...]

Succeeding emperors left the Britons in the quiet advancement of their civilization, until Claudius (Fig. 118) was stirred up to the hazard of an invasion. In the sonorous prose of Milton—"He, who waited ready with a huge preparation, as if not safe enough amidst the flower of all his Romans, like a great Eastern king with armed elephants marches through [...] [more...]

For ninety-seven years after the second expedition of Cæsar the country [England] remained at peace with Rome. Augustus (Fig. 117) threatened an invasion; but his prudence told him that he could not enforce the payment of tribute without expensive legions. The British princes made oblations in the Capitol; and, according to Strabo, "rendered almost [...] [more...]
Note: If you got here from a search engine and don't see what you were looking for, it might have moved onto a different page within this gallery.
---