Old England: A Pictorial Museum (page 37/52)

The castle stands in the moat. One of a number of pictures of Bodiam Castle on this Web site.

In this wood engraving, the castle is in the middle distance, with someone squatting or perhaps sitting and fishing, in the foregroud to give a sense of scale. [more...]

[...] Not many months after, the earl's brother, thomas, Archbishop of Canterbury, banished in the same cause, set the crown of Richard on Bolingbroke's head. Of course the Arundels found favour with the new king. We find the earl's second son, John Fitzalan, had leave from him to [...]i.e. to crenellate, or fortify it]: the present old mansion stands on the castle site. (p. 254) [more...]
929.—North West View of Salisbury Cathedral.

The bishopric of Salisbury was created by the union of the sets of Wilton and Sherbourne, which was done by order of Lanfranc, Archbishop of Canterbury, in 1075. [...] The ceremony of laying the foundation was a gorgeous one. The young king, and all the principal nobility and clergy of the realm, were invited, and everything that could add dignity or [...] [more...]


Crosses from the gables at the ends of the roof of Salisbury Cathedral. [more...]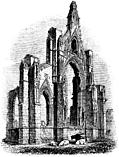 The perfect Romantic Ruin, an abbey that was once a place of worship and a seat of power, and has now fallen so low that cattle graze where there was once a High Altar. [more...]

Note: If you got here from a search engine and don't see what you were looking for, it might have moved onto a different page within this gallery.
---