Old England: A Pictorial Museum (page 18/52)

An 1840s woodcut representing a Roman coin found in Britain; this coin shows a galley with cox and three (or six) oarsmen, or rowers. Counter to current practice, the rowers face [...] [more...]

The engraving shows a Roman coin, with a picture of a galley being rowed, whether by slaves or soldiers we cannot tell; the coinbears the words, ilicita avg s c cosiiipp. [more...]

A picture of a Roman coin showing a lighter sort of Roman galley, or rowing-boat. The rowers here appear to be wearing helmets, so presumably are soldiers rather than slaves. Compare with Fig. 94. [more...]

Two Roman men, with long curly hair and skirts, adopt feminine poses, one holding a stick with a carved eagle on it, universal symbol of despotism, and the other has a banner with SPQR, the Latin that supposedly meant "The Senate and the People of Roman" [...] [more...]

Three Roman soldiers are shown: one with a round shield and two short spears or arrows, one with a tall shield obviously for riot control, and a long spear or javelin, and one seated on the ground. [more...]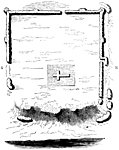 A (rather minimal) plan of Richborough castle, an ancient Roman fort on the south-east coast of England, dating to maybe A.D. 43. There is also an amphitheatre at the site. Richborough was the first Roman fort in England, and marks the start of [...]Rutupiæ. The account in the book (following) is a little confused about which parts were built when and by whom. [more...]


100.—North Wall of Richborough.

A man hunts with rifle and dog beside the overgrown Roman walls of Richborough in Southern England. See Fig. 99 for the extract from the book.
Note: If you got here from a search engine and don't see what you were looking for, it might have moved onto a different page within this gallery.
---