Old England: A Pictorial Museum (page 9/52)

"Of the domestic furniture of the thirteenth and fourteenth centuries the beds of the nobility (Figs. 1141, 1142) were most lavishly adorned. The simple form was that of a railed box, or crib; the "brases," or rails, of costly material: the draperies at the head magnificent in substance and in armorial blazonry. In the wills of our old nobility, one bed is mentioned "powdered with blue eagles," one of red velvet, with ostrich feathers of silver, and heads of leopards of gold; ohers of black velvet, black satin, blue, red, and white [...]fur of ermines, are also specified; and sheets of fair white silk, and pillows from the East." (p. 329) [more...]

28.—Abury. Bird's eye view, from the South.

"The bird's-eye view (Fig. 28), exhibits the restoration of Abury and its neighbourhood somewhat more clearly. 1 is the circumvallated bank, 2 and 3 the inner temples, 4 the river Kennet, 5 and 6 the avenues, 7 [...] [more...]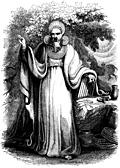 29.—Arch-Druid in his full Judicial Costume.

A fanciful drawing of an Arch-Druid (archdruid) in his full costume, judicial presumably meaning that he is ready to judge over people. An old and stern-looking man with a long flowing beard wears a robe fastened about his chest with a buclked belt. One bare foot protudes from beneath his robe, showing him to be barefoot. His righ thand is raised, although whether in benediction or to request a cup of mead is unclear. He has [...] [more...]

1156.—Tomb of Henry IV and his Queen

One day whilst he was praying before the shrine of [Edward] the confessor in Westminster Ammey, he was seized with an apoplectic fit. The attendants carried him to the abbot's apartments, and there laid him down in the chamber which still exists, apparently unaltered against the corner of the western [...]Jerusalem Chamber," was the answer. Here Henry IV. died. He was buried at Canterbury, where a sumptuous table-monument (Fig. 1156) bears the effegies of himself and his seconf wife, Joan of Naverre. Portraits of both, with the great seal, will be found among our illustrations (Figs. 1153, 1155). (p. 335) [more...]



"Methley Hall, or Methley Park, in the West Riding of Yorkshire, seven miles south-east from Leeds, is the seat of the Saviles, Earls Mexborough, which family have held the manor for several centuries. The original manor-house was built by Sir Robert Waterton, in the reign of Henry IV.; but after the manor became the property of the Saviles, the old [...]i.e. outside], but contains some very fine apartments, one of which, with its beautiful painted ceiling and pendent ornaments, its antique [as of 1845] furniture, rich carving, and lofty mullioned windows, is exhibited in out coloured engraving." (p. v) [more...]
Note: If you got here from a search engine and don't see what you were looking for, it might have moved onto a different page within this gallery.
---