Old England: A Pictorial Museum (page 42/52)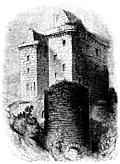 1273.—Present State of Borthwick Castle.

Bortwick castle was built in the 1430s; it is inhabited (now as a hotel) and is in good condition, despite the grass growing on the battlements in this 1840s engraving. It capitulated to [...] [more...]



Shakespeare's parents may have been married in this church, didicated to St. John the Baptist. The church clock dates from the fourteenth century. The village was mentioned in the Domesday Book in the 11th Century. You can just see some people [...] [more...]

The parish church of St. Mary is an ancient and interesting edifice (Harmsworth's Encyc.) [more...]
Note: If you got here from a search engine and don't see what you were looking for, it might have moved onto a different page within this gallery.
---