Old England: A Pictorial Museum (page 32/52)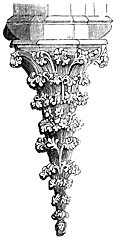 583.—Bracket, Chapter Housse, Lincoln.

They don't make brackets like this any more! A carved stone folaiate bracket with a human face or head at the base. This is surely the sort of Gothic ornament that inspired the Gothic Revival! [more...]

A bracket, possibly a corbel supporting the end of an arch, in the form of a winged angel holding a shield with a cross on it.

A woodcut showing a medieval wooden boss, or decorative carving, in this case with a rose motif, used to cover a joint in the Nave of Lincoln Cathedral, possibly in the ceiling. [more...]

I took th woodcut of the boss snd coloured it as it might (or might not) have been painted. [more...]

Durham Cathedral is a UNESCO world heritage site today. It was built in the 11th century and so is almost a thousand years old. But it still works. [more...]

590.—Stone Chair in the Chapter House, Durham.

The interior [of Durham Cathedral] presents many objects of high interest—[such] as the sumptuous bishop's throne (Fig. 602), the stone chair (Fig. 590), and above all, the common tomb of St. Cuthbert and of the Venerable Bede, the author of the valuable Ecclesiastical History to which we are indebted for many of the most interesting facts relating [...] [more...]

These days it's open to the public from March to October. [more...]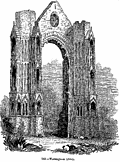 Note: If you got here from a search engine and don't see what you were looking for, it might have moved onto a different page within this gallery.
---