Old England: A Pictorial Museum (page 21/52)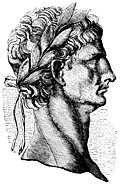 Succeeding emperors left the Britons in the quiet advancement of their civilization, until Claudius (Fig. 118) was stirred up to the hazard of an invasion. In the sonorous prose of Milton—"He, who waited ready with a huge preparation, as if not safe enough amidst the flower of all his Romans, like a great Eastern king with armed elephants marches through [...] [more...]



124.—Silchester. The North Wall.

The striking characteristic of Silchester is the ruined wall, with the flourising trees upon it and around it, and the old trees that have grown up around centuries ago, and are now perishing with it. This is the poetry of the place, and the old topographers felt it after their honest fashion. Leland says, "The walls remain in good measure entire, [...] [more...]



Note: If you got here from a search engine and don't see what you were looking for, it might have moved onto a different page within this gallery.
---