Old England: A Pictorial Museum (page 15/52)

"the great variety of British coins, of which we here present a group (Fig. 68)." (p. 22) [more...]

"Ring-money, peculiar to the Celtic nations, undoubtedly existed in Ireland previous to the domination of the Romans in Britain. Although Cæsar says that the ancient Britons had no coined money, there is sufficient probability that they had their metal plates for purposes of [...] [more...]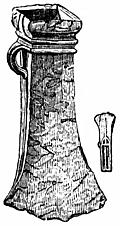 "The weapons of the ancient Britons show their acquaintance with the casting of metals. Their axe-heads, called Celts, are composed of ten parts of copper and one of tin (Figs. 70 and 71); their spear-heads, of six parts of copper and one of tin. Moulds for spear-heads have been frequently found [...] [more...]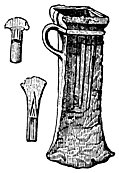 "The weapons of the ancient Britons show their acquaintance with the casting of metals. Their axe-heads, called Celts, are composed of ten parts of copper and one of tin (Figs. 70 and 71); their spear-heads, of six parts of copper and one of tin. Moulds for spear-heads have been frequently found [...] [more...]

"The weapons of the ancient Britons show their acquaintance with the casting of metals. Their axe-heads, called Celts, are composed of ten parts of copper and one of tin (Figs. 70 and 71); their spear-heads, of six parts of copper and one of tin. Moulds for spear-heads have been frequently found [...] [more...]

73.—Spear as it would have come from the Mould.

"The weapons of the ancient Britons show their acquaintance with the casting of metals. Their axe-heads, called Celts, are composed of ten parts of copper and one of tin (Figs. 70 and 71); their spear-heads, of six parts of copper and one of tin. Moulds for spear-heads have been frequently found [...] [more...]

"There are no remains of those terrible war-chariots of the Britons which Cæsar describes as striking terror into his legions. King, who labours very hard to prove that the people who stood up not only with undaunted courage, but military skill, against the conquerors of the world, were but painted savages, considers that the British war-chariot was [...] [more...]
Note: If you got here from a search engine and don't see what you were looking for, it might have moved onto a different page within this gallery.
---