Old England: A Pictorial Museum (page 49/52)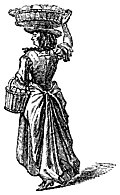 2055.—Fair Lemons and Oranges.

A woman with apron tied at her waist carries two baskets, one under her arm and one balanced on her head and resting on top of her broad-brimmed hat; the baskets are filled with fruit. [...] [more...]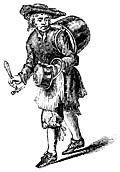 A man walks while wearing old-fashioned clothing has a large pan or bucket over one shoulder, a saucepan in one hand and a hammer in the other. He wears a wide-brimmed hat, an apron, a ragged apron and [...] [more...]


The city of Westminster, some four hundred years ago, had the churces and cathedrals of today, but was perhaps somewhat less built-up! Here we are looking across the River Thames at houses, the old [...] [more...]


Near Walsingham. "It is a curious and instructive contrast to compare with Herstmonceaux – a true Castle, but in which the domestic mansion was beginning to show itself – with East Basham Hall in Norfolk (Fig. 2105), which forms a true and most beautiful mansion, but in which the traces of old castellated architecture are everywhere conspicuous. It [...] [more...]

I'm not sure if The Queens Arms is the same place. let me know!
Note: If you got here from a search engine and don't see what you were looking for, it might have moved onto a different page within this gallery.
---