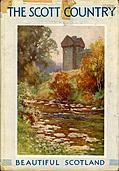 Pictures from The Scott Country - beautiful Scotland, Described by John Geddie, Painted by E. W. Haslehust, R.B.A. [1866 – 1949], Blackie & Son Ltd., London and Glasgow.
I don't have an exact date for this book; probably 1920, although the cover under the dost jacket is plain: after about 1911 they started to have pictures on them.
The artist died more than 70 years ago, so these illustrations are out of copyright.
Title: The Scott Country
City: London
Date: 1920
Total items: 10
Out of copyright (called public domain in the USA), hence royalty-free for all purposes usage credit requested, or as marked.