Die Bücher-Ornamentik Der Renaissance (Vol. I.) (page 1/5)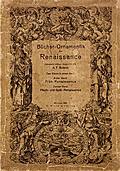 Title: Die Bücher-Ornamentik Der Renaissance (Vol. I.)
Published by: Verlag von G. Hirth
City: Leipzig
Date: 1878
Total items: 40
out of copyright (called public domain in the USA), hence royalty-free for all purposes usage credit requested, or as marked.
Some sample images
Engravings from "Die Bücher-Ornamentik Der Renaissance" (Book-Ornament of the Renaissance) by A. F. Butsch, Leipzig, 1878. Alfred Butsch was a famous bookseller and a collecter of antiquarian books; the engraved plates in the book reproduce illustrations from early printed books.
I bought my copy of this book (actually Volume II hasn't arrive yet!) from a bookseller in Germany; there is also a fac simile by Dover, but the reproduction is not of the highest quality, so these images are better, if very incomplete.
I also have Volume II.
Note: If you got here from a search engine and don't see what you were looking for, it might have moved onto a different page within this gallery.
---