The Antiquities of England and Wales (page 4/8)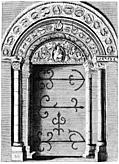 The grand Door of Barfreston Church in Kent.

On some of these arches is commonly over the key-stone represented God the Father, or our Saviour surrounded with angels; and below a melange of foliage, animals, often ludicrous, and sometimes even indecent subjects. Partly of this sort is the great [...] [more...]

Two birds touch beaks, perhaps a mother feeding a baby, in this printer's ornament, used as a tailpiece (tail-piece) at the end of a chapter. The design includes a harp, [...] [more...]

This antique typographic ornament was used as a chapter tail-piece at the end of a section of the preface. You could also use it as a decorative page element. This was scanned from a 1780s book, and is not perfect: I have not tried to clean it up or make it look new. It [...] [more...]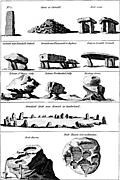 Published by S. Hooper April 16, 1784; the illustration is signed Goodnight Sculpt. [more...]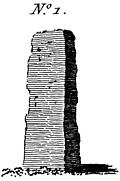 Note: If you got here from a search engine and don't see what you were looking for, it might have moved onto a different page within this gallery.
---