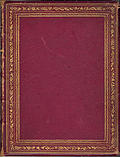 Images from The River Dee: Its Aspect and History by J. S. Howson. My copy has a splendid red leather cover. 4to. pp. xiv, 174, 174. wood-engraved frontis. & 92 text illus. after the drawings of Alfred Rimmer. Complete with half-title, contemporary gilt-stamped roan, inside dentelles, all edges gilt. First edition Chapters on the city of Chester and its cathedrals, Dee River halls, castles, bridges &c.
John Saul Howson died in 1885; Alfred Rimmer died in 1893. The text and images are out of copyright.
Title: The River Dee: Its Aspect and History
Published by: Virtue, Spalding & Co.
City: London
Date: 1875
Total items: 16
Out of copyright (called public domain in the USA), hence royalty-free for all purposes usage credit requested, or as marked.