The Natural History of Selborne (page 1/3)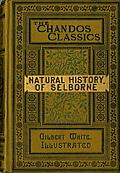 Title: The Natural History of Selborne
Published by: Frederick Warne & Co.
City: London
Date: 1879
Total items: 14
Pictures from The Natural History of Selborne by The Rev. Gilbert White (1788). See the title page for more information about the book.
There is also an entry in the Nuttall Encyclopædia for Gilbert White.
Some sample images
Note: If you got here from a search engine and don't see what you were looking for, it might have moved onto a different page within this gallery.
---
$Id: mkgallery,v 1.27 2012/09/03 22:34:40 liam Exp liam $