The Idler
Images from the book edition of The Idler, a weekly magazine of the 1750s by Samuel Johnson; my copy has been attacked by worms, and is missing the title page and many of the illustrations, but I'll scan what I can.
The book is actually Harrison's collection. British classicks. Weekly essays which first appeared in the Universal chronicle, Apr. 15, 1758 to Apr. 5, 1760.; The World Catalogue says Twelve papers were contributed by friends, of which no. 33, 93, 96 are by Warton; no. 67 by Langton; no. 76, 79, 82 by Reynolds. Bound with Melmoth, William. The letters of Sir Thomas Fitzosborne, on several subjects. London, 1795; Shenstone, William. Essays on men and manners. London, 1797; Armstrong, John. Sketches; or, Essays on various subjects. London, 1797 and Steele, Sir Richard. The lover. London, 1797. and gives an OCLC number of 5252465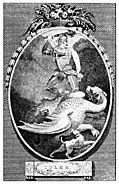 Idler No. 8: George and the Dragon.

Saint George, patron saint of England, is seen here wearing full plate mail wielding a mace and about to slay the dragon, together with his two dogs. The image is in an oval cartouche or frame, surmounted ith a basket of flowers including a cross, and [...] [more...]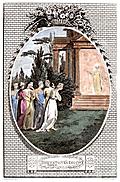 The ladies and the ruined temple illustrate Essay XXI (21) in William Shenstone's Essays on Men and Manners (1797): [more...]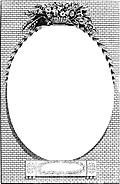 Cartouche or Oval Frame With Wreath and Bricks

This oval frame surrounded a classical scene illustrating an essay; the frame includes a basket of flowers and a wreath, and has a bricks-and-mortar masonry background in black and white, making an unusual eighteenth-century border. There is [...] [more...]
---