The Idler (page 2/2)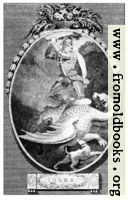 Idler No. 8: George and the Dragon.

Saint George, patron saint of England, is seen here wearing full plate mail wielding a mace and about to slay the dragon, together with his two dogs. The image is in an oval cartouche or frame, surmounted ith a basket of flowers including a cross, and [...] [more...] [$]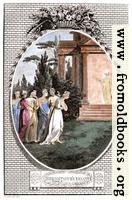 The ladies and the ruined temple illustrate Essay XXI (21) in William Shenstone's Essays on Men and Manners (1797): [more...] [$]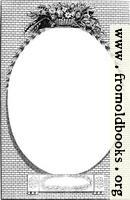 Cartouche or Oval Frame With Wreath and Bricks

This oval frame surrounded a classical scene illustrating an essay; the frame includes a basket of flowers and a wreath, and has a bricks-and-mortar masonry background in black and white, making an unusual eighteenth-century border. There is [...] [more...] [$]
Note: If you got here from a search engine and don't see what you were looking for, it might have moved onto a different page within this gallery.
---

Warning: include(/home/liam/f/lib/footer-nojq-lazy.php): failed to open stream: No such file or directory in /home/liam/public_html/fromoldbooks.org/SamuelJohnson-TheIdler/index2.html on line 84

Warning: include(): Failed opening '/home/liam/f/lib/footer-nojq-lazy.php' for inclusion (include_path='.:/opt/cpanel/ea-php73/root/usr/share/pear') in /home/liam/public_html/fromoldbooks.org/SamuelJohnson-TheIdler/index2.html on line 84