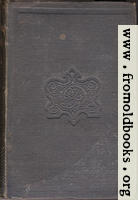 A simple binding with the title in gold on the spine.
[
$
]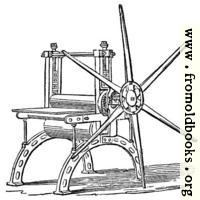 Copper-plate, or Rolling-Press.

"The rolling-press, which is employed in nearly every species of copper-plate printing, is divided into two parts, the body and the carriage. The body consists of two wooden checks, placed perpendicularly on a stand or foot, which sustains the whole press. From the foot, likewise, rise four other perpendicular pieces, joined by cross of horizontal [...]Frankfort Black, mixed with nut-oil that has been well boiled; the two being ground together on a marble slab, in the same manner as printers grind their colors. [...]" (p. 488, s.v. Press) [more...]
[
$
]
Note: If you got here from a search engine and don't see what you were looking for, it might have moved onto a different page within this gallery.