Castles (page 3/4)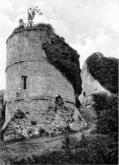 Corner Tower
"This castle alone, in the whole shire [Herefordshire], has remained fairly perfect, and shows some fine towers and walls. It lies on the [River] Wye, between Ross and Monmouth [...]. It appears to have been built by the de Clares of the [...] [more...]

The three castles differ from each other in situation and character. Skenfrith, the smallest of the three, and the one which was least pulled about by its later owners, lies low, at a point where a lateral depression opens out into the main valley of the [river] Monnow. The builder did not take advantage of any one of several neighbouring knolls, but [...] [more...]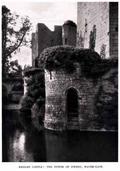 The Tower of Gwent, Water-Gate [more...]

There has been a castle at Abergavenny since around 1087, but today's ruins were built in the 13th and 14th centuries. Today there is a gate with barbican and a couple of towers. There are [...]Castles of Wales web site. Abergavenny is also called, in Welsh, Y Fenni. [more...]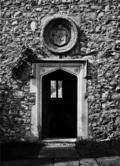 Stradling Arms in Inner Court

The key reads as follows:
A. Gateway to Inner Ward.
B. Gateway to Outer Ward.
C. Gateway to Grand Front.
D. S. Postern to Grand Front.
E. Great Hall.
F. Kitchen. [more...]

Penrice Castle: The Gate-House.

"This is the largest, but not [according to Sir Charles Oman] the most interesting, of the three castles of Gower. For though its enciente, round keep and gate-house are standing, it as as mere masses of rubble, all the ashlar and carved stonework having been most carefully peeled off the rough cores within. It stands about a mile and a half from the sea, on a plateau at the head of a deep coombe, which runs down through woods to Oxwych Bay. Its back is toward a cliff or very steep descent [...] [more...]

"Pembroke possess one curiosity unparalleled in other British castles: under the inner ward on the north side is an immense natural cavern, called the Wogan, 70 feet long and 50 broad, which was from the first utilized as a good dry storehouse. It was aproachable from above by stairs, and below had an opening on to the creek, blocked by a water-gate, [...] [more...]

Situated on a narrow creek running up from Milford Haven—quite a separate one from that on which Carew lies, but only two and a half miles from that great castle, is a smaller stronghold, very typical of the solid style of building by which the minor lords of "Little England beyond Wales" maintained their hold on the land. This is Upton, the patrimonry [...] [more...]
Note: If you got here from a search engine and don't see what you were looking for, it might have moved onto a different page within this gallery.
---