England Beautiful (page 4/5)

The photograph shows two of the towers around the curtain wall of Framlingham Castle in Suffolk. The castle was built in the twelth century.

The rocky shore at Ilfracombe, North Devon.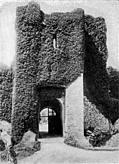 An unidentified castle entrance, overrun by ivy or creepers. I don't recognise this entrance; any help would be welcome.

A photograph taken from an unusual angle; Haddon Hall is just visible at upper left. The Hall dates back to the 12th century, although the present occupants, the Manners [...] [more...]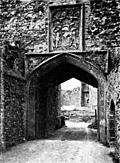 The entrance to Framlingham Castle in Suffolk; you can see the remains of a coat of arms over the arch.
A huge yew tree overshadows an even older church in this gloomy unkempt churchyard; tombs and graves of various sorts are visible in the long grass. [more...]
Note: If you got here from a search engine and don't see what you were looking for, it might have moved onto a different page within this gallery.
---