Works of Jane Austen
details...

Pictures from The Works of Jane Austen published by Fank S. Holby in 1906; the illustrations are signed C. E. Brock, 1898.

These images were scanned by "The Sanity Inspector" of Atlanta, USA, for his blog, All Edges Gilt, and appear here with his kind permission.

I think that this is The Novels and Letters [Works] of Jane Austen Edited by R. Brimley Johnson; with an Introduction by Prof. William Lyon Phelps, in 12 volumes, and limited to 1250 copies. It was published in New York in 1906, and hence is out of copyright. The artist, Charles Edmund Brock, was English, and died in 1938, so his work in any case fell out of copyright at the end of 2008.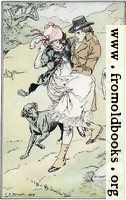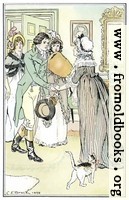 ---