Letters & Lettering: A Treatise With 200 Examples (page 4/8)






66.—Modern Greek Type. Selwyn Image.

"The Greek type designed for the Macmillan Company of England, by Mr. Selwyn Image, [Fig. 66], is of sufficient interest to be shown here, despite the fact that it is not strictly [...] returned to the more classic Greek form, although the result may at first glance seem illegible to the reader familiar with the more common cursive letters." (p. 73) [more...]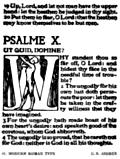 Modern Roman Type; C. R. Ashbee. [more...]

The drop capital (drop cap) "W" from Fig. 67 shows a naked man in a forest. He plays a flute. His bare feet protrude from the boundary of the initial. You [...]Figure; note in particular the baseline alginment of the lasst indented line of text, and the closer setting of the rest of the word on the first line. [more...]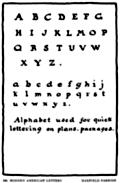 140. Modern American Letters. Maxfield Parrish.

"The pages of letters shown in 138, 139 and 140 are intended to suggest forms which, while suitable for rapid use, yet possess some individuality and character. The so-called "Cursive" letter by Mr. Maxfield Parrish, 140, is particularly effective for such informal use—in fact, its very charm lies in its informality—and is quite as distinctively [...] [more...]



Note: If you got here from a search engine and don't see what you were looking for, it might have moved onto a different page within this gallery.
---