The National and Domestic History of England (Vol 2) (page 3/5)

Timber was largely used in the construction of houses, some speciments of which yet remain, the most celebrated being parts of Crosby Hall, in Bishopsgate, London. Coventry also [...] [more...]

The view of builders at work, taken from a fifteenth century manuscript, sufficiently explains some of the mechanical appliances then in use. (p. 174) [more...]

Bakehouse of the Fifteenth Century

In this wood engraving two people are working in a bakery, or bake-house. One is putting dough into a brick oven to bake using a long spoon-shaped device, and the other is carrying a ball of dough ready to go in next. Behind [...] [more...]

Reading Desks. MS. Bodleian Library.

Two reading desks that were depicted in a 15th century manuscript. The left-hand one is circular and ornate, with space to hold both an open book and another closed book. It has a cross on the top. The secondreading desk, or lectern, has an open book, and the stand is carved with decorations in the [...] [more...]

Carriage of the Fifteenth Century.

A woodcut based on a picture in a book from the 15th century. A cart or carriage is pulled by two horses. A man with a hat rides one of the horses and brandishes a whip; the horses are blinkered and have bits in their mouths. In the carriage ride three people, one in the front turning to look at, or talk to, two women inside. One of the [...] [more...]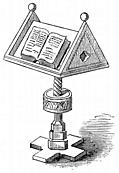 A woodcut showing a diagram of the Tower of London and its surringings. There are boats and conttages, battlements and towers, with the keep in the middle of it all. [more...]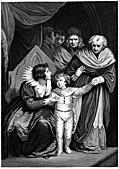 Elizabeth Woodville Surrendering Her Son

Elizabeth Woodville was the consort of King Edward IV. and the mother of Edward V., King of England for only two months, at the age of thirteen, in 1483, before being locked up in the Tower of London and later, probably, [...] [more...]

Dean John Colet is best known for having founded St. Paul's school in London; he is called Dean Colet because he was the dean of St. Paul's cathedral, and Colet was his name. [more...]

Sir Thomas More was a Divine, Chancellor of England under King Henry VIII, and a central figure in the English Reformation. [more...]
Martin Luther was the man whose actions and words led atthe end of the Middle Ages to the Reformation, and with it the possibility of Englightenment. [more...]
Note: If you got here from a search engine and don't see what you were looking for, it might have moved onto a different page within this gallery.
---