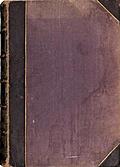 Pictures and short extracts from The National and Domestic History of England Volume II (A.D. 1399 – 1603), by William Hickman Smith Aubrey (1858 – 1916). The book is undated, but is probably 1878, since I found someone selling a copy with an inscription dated 1879. The engravings are mostly anonymous, and hence out of copyright; the author died more than 75 years ago, and so the text is out of copyright; any photographs were taken more than 50 years ago and are out of copyright. The status of signed engravings would depend on the artist, but I have not yet uploaded any such items. Check the individual image descriptions for more information.
In 2015 I bought the three-volume set from Bookends of Fowey in Cornwall, UK. Previously I had only Volume II and part of volume III.
See also the Google books scan of this book.
Title: The National and Domestic History of England (Vol 2)
City: London
Date: 1878
Total items: 42
Out of copyright (called public domain in the USA), hence royalty-free for all purposes usage credit requested, or as marked.