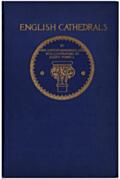 Pictures from English Cathedrals by Mrs. Schuyler van Rensselaer, Century, New York, 1910, illustrated with one hundred and fifty-four drawings by Joseph Pennell, and also with plans and diagrams.
Mrs. Schuyler Van Rensselaer (Mariana Griswold), the famous American art critic and author, was commissioned by "The Century Magazine" to write about twelve English cathedrals to accompany drawings by Mr. Pennell. The resulting magazine articles were then revised to make the book from which these drawings have been scanned. The first edition was in 1892, but mine is the fifth edition, from 1910.
Title: English Cathedrals
Published by: The Century Co.
City: New York
Date: 1910
Total items: 5
Out of copyright (called public domain in the USA), hence royalty-free for all purposes usage credit requested, or as marked.