The Book of Knowledge Volume 1
details...

Pictures from The Book of Knowledge, an encyclopædia in twenty volumes, edited by Arthur Mee. I have the 1918 edition, which is probably just a reprint of the 1911 edition.

We were getting ready to pay for the books we had bought at Hannelore Headley Books in St. Catherine's, Ontario, when I spotted these books on the bottom shelf opposite the checkout desk, and I'm glad that I did!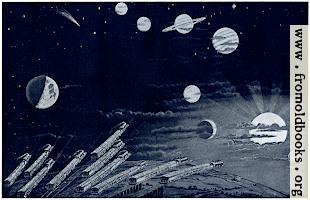 Ten passenger trains, each with five carriages pulled by a steam locomotive, are heading for the sun, the moon, the nearest star, and for each of the other planets in this steam-punk Vctorian illustration! [more...] [$]
---