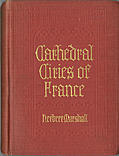 Pictures from "Cathedral Cities of France" by Herbert Marshall and Hester Marshall, 1907. My copy has a red stamp on the title page, "Toronto, the Mission Book Co. Ltd. 1907" but the Impressions page says Copyright 1907, by Dodd, mead & Company, Published September 1907" from which I take it that this book was printed in the USA and imported. In either case, whether American or Canadian, it is out of copyright now.
Title: Cathedral Cities of France
Published by: Dodd, Mead & Company
City: Toronto
Date: 1907
Total items: 9
Out of copyright (called public domain in the USA), hence royalty-free for all purposes usage credit requested, or as marked.