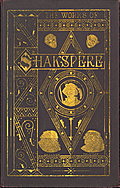 Some images from "William Shakspere: A Biography" by Charles Knight, 1843 (reprinted by Collier of New York). The spelling of Shakespeare is used in most of Knight's works.
Bought at Odyssey Books on Rue Stanley, Montreal, QC, Canada, on 5th August 2007.
This book is also online (in lower resolution) at archive.org.
Title: William Shakspere Biography
City: London
Date: 1841
Total items: 7
Out of copyright (called public domain in the USA), hence royalty-free for all purposes usage credit requested, or as marked.