A Sentimental Journey Through France and Italy (page 1/3)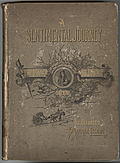 Title: A Sentimental Journey Through France and Italy
Published by: J. B. Lippincott & co.
City: Philadelphia
Date: 1885
Total items: 17
out of copyright (called public domain in the USA), hence royalty-free for all purposes usage credit requested, or as marked.
Some sample images
Extracts and pictures from A Sentimental Journey Through France and Italy by Laurence Sterne, with illustrations by Maurice Leloir, Comprising 220 drawings in the text, and 12 full-page compositions.
The full-page plates are photogravures using the Goupil process. I bought my copy for $50 in Decemer 2007 at a bookstore in Kingston, Ontario, Canada, but it has water damage.
Note: If you got here from a search engine and don't see what you were looking for, it might have moved onto a different page within this gallery.
---