Alice's Adventures in Wonderland (page 3/5)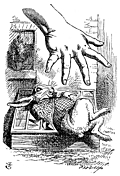 Alice was too big for the room

"She drew her foot as far down the chimney as she could, and waited till she heard a little animal (she couldn't guess of what sort it was) scratching and scrambling about in the chimney close above her: then, saying to herself 'This is Bill,' she gave one [...] [more...]

"An enormous puppy was looking down at her with large round eyes, and feebly stretching out one paw, trying to touch her. 'Poor little thing!' said Alice, in a coaxing tone, and she tried hard to whistle to it; but she was terribly frightened all the time at the thought that it might be hungry, in which case it would be [...] [more...]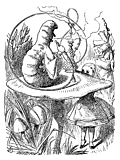 "She stretched herself up on tiptoe, and peeped over the edge of the mushroom, and her eyes immediately met those of a large caterpillar, that was sitting on the top with its arms folded, quietly smoking a long hookah, and taking [...] [more...]

Father William standing on his head.

" 'You are old, Father William,' the young man said,
 'And your hair has become very white;
And yet you incessantly stand on your head—
 Do you think, at your age, it is right?' " [more...]


Father William finished the goose

'You are old,' said the youth, 'and your jaws are too weak
    For anything tougher than suet;
Yet you finished the goose, with the bones and the beak—
    Pray how did you manage to do it?' [more...]


The Fish Footman and the Frog Footman

"For a minute or two she stood looking at the house, and wondering what to do next, when suddenly a footman in livery came running out of the wood—(she considered him to be a footman because he was in livery: otherwise, judging by his face only, she would have called him a fish)—and rapped loudly at the door with his knuckles. It was opened by another [...] [more...]

Cook, Duchess, Cheshire Cat, Baby, and Alice

"The door led right into a large kitchen, which was full of smoke from one end to the other: the Duchess was sitting on a three-legged stool in the middle, nursing a baby; the cook was leaning over the fire, stirring [...] [more...]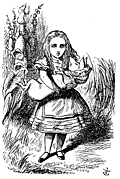 "The baby grunted again, and Alice looked very anxiously into its face to see what was the matter with it. There could be no doubt that it had a very turn-up nose, much more like a snout than a real nose; also its eyes were getting extremely small for a baby: altogether Alice did not like the look of the thing at all. 'But perhaps it was only sobbing,' she thought, and looked [...] [more...]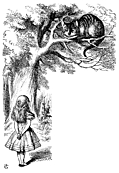 Note: If you got here from a search engine and don't see what you were looking for, it might have moved onto a different page within this gallery.
---