Bible Symbols (page 1/4)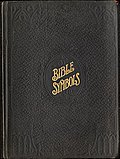 Title: Bible Symbols
Published by: The John A. Hertel Co.
City: Chicago, Toronto, Boston
Date: 1908
Total items: 32
out of copyright (called public domain in the USA), hence royalty-free for all purposes usage credit requested, or as marked.
Some sample images
Images from Bible Symbols: The Choicest Passages of God's Word put in the Fascinating Garb of Pictures by Frank Beard [1842 – 1905] and others; text prepared by Martha Van Marter [born 1839]; Chicago, 1908.
The book is a sort of rebus, in which pictures stand for words, and perhaps help people to remember phrases from the Bible, although not necessarily to understand them or to learn love and tolerance.
Note: If you got here from a search engine and don't see what you were looking for, it might have moved onto a different page within this gallery.
---