Legends of the Black Forest (page 2/2)
Frontispiece: Burkard Keller of Yburg.

A ghostly woman glowing white floats in the air, her bare feet not touching the ground, as she reaches out to a knight, kneeling in awestruck adoration. In the background a statue of the same woman atop a tomb, and owls flying in a forest; ws see also the [...] [more...]
[
$
]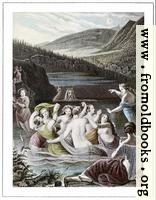 A group of water-nymphs bathe in the lake, with the stern figure of the ruler of the lake in the background. [more...]
[
$
]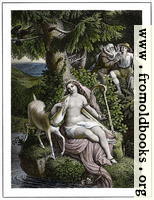 Note: If you got here from a search engine and don't see what you were looking for, it might have moved onto a different page within this gallery.