Il Museo Pio Clementino
details...

Some illustrations from the title pages of various volumes of Il Museo Pio Clementino described by Enno Quirino Visconti, Rome, 1792.

Don Lake of D & E Lake Books in Toronto sold me this many years ago, but incomplete, and without the actual illustrations. It is an enormous book: the individual (unbound, uncut) pages are each about 18½ × 25 inches and the pile of pages that I do have is some four and a half inches thick.

Although my copy lacks the illustrations, I do have some of the title pages for the individual books, and they each have an engraving of a heraldic shield with various things surrounding it. And if you know anyone would like some eighteenth century Italian paper with a book printed on it...
Heraldic Crest and Symbols of Art

This heraldic crest is from the title page to Volume IV of the huge book. If you are able to give a formal description of this image I'd love to hear from you; informally, it shows an armorial bearing of a head (probably Zephyr, the West Wind) blowing a flower, surmounted by three stars. The shield is mounted on a shell, and has myrtle branches [...] [more...] [$]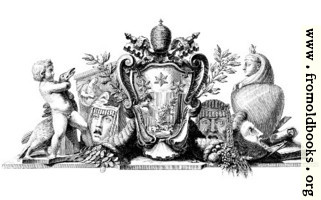 Heraldic Crest and Symbols of Industry

This heraldic crest is from the title page to Volume VI of the huge book. If you are able to give a formal description of this image I'd love to hear from you; informally, it shows an armorial bearing of a head (probably Zephyr, the West Wind) blowing a flower, surmounted by three stars. The shield is mounted on a shell, and has myrtle branches [...]putto (a naked boy, anatomically correct) grasping a bird (a goose?), a cornucpoia of coins, and a rather peterbed-looking mask. On the right is a cornucopia of fruit and vegetables, an Egyptian-style vase, a severed head or bust, and instruments of navigation: calipers for measuring distance on a chart, a square and a book. The whole may signify spoils from plundered distant lands but I am not certain. [more...] [$]
---