Pan Pipes
details...

Words and pictures from "Pan Piles" by Theo Marzials, set to pictures by Walter Crane; engraved and printed in colours by Edmund Evans. London: George Routledge and sons, 1883.

The illustrations by Walter Crane are out of copyright.

I bought the book from Steven Temple Books between St Catherine's and Port Colborne, Ontario, in September 2015.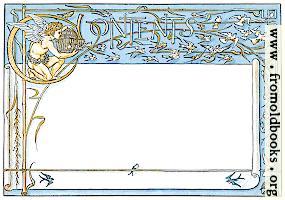 In this Arts and Crafts style image, a wide piece of paper is drawn with curled-up side edges; the paper is set in a ground featuring a blue sky with white birds. The birds are flying out of an open wicker birdcage held by a winged and garlanded boy incorporated into the initial letter C of the word Contents; brds and bamboo sticks also appear as if [...] [more...] [$]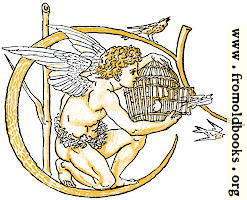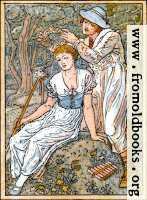 Spring flowers adorn a grassy hill in a forest where a shepherd girl (by her crook, or sheep-staff) and a minstrel boy (by his pan pipes) are courting. The young man is about to put a wreath or garland of flowers on the [...] [more...] [$]
---