Electric Lighting for Marine Engineers (page 1/3)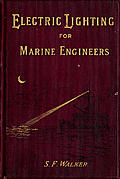 Title: Electric Lighting for Marine Engineers
Published by: Whittaker & Co.
City: London
Date: 1892
Total items: 13
Words and pictures from "Electric Lighting for Marine Engineers" by Sydney F. Walker, undated but approx. 1890 (a bookseller lists an 1892 edition). Lots of steampunk potential here!
Some sample images
Note: If you got here from a search engine and don't see what you were looking for, it might have moved onto a different page within this gallery.
---
$Id: mkgallery,v 1.27 2012/09/03 22:34:40 liam Exp liam $