Religion in the Home (page 1/3)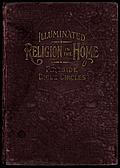 Title: Religion in the Home
Date: 1913
Total items: 18
Pictures from Religion in the Home: Illuminated Bible Stories for Young and Old Written in Simple Language by Charlotte M. Yonge, and illustrated by the German painter Julius Schnorr von Karolsfeld (1794-1872). The artist's name is spelt thus in the book, although Wikipedia has it Carolsfeld.
This American book was produced in or before 1913, and is now in the public domain.
Some sample images
Note: If you got here from a search engine and don't see what you were looking for, it might have moved onto a different page within this gallery.
---
$Id: mkgallery,v 1.27 2012/09/03 22:34:40 liam Exp liam $