Image description for From the Biblia Pauperum. Block Book. 15th Century.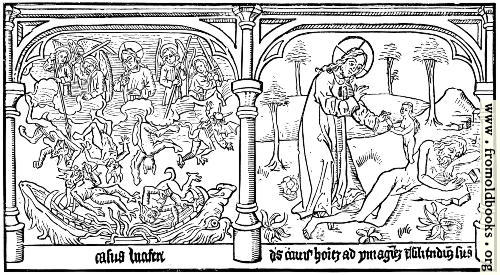 This image shows a woodcut with fairly heavy, bold lines.
The outside of the image consists of a frame drawn as if we are looking at the inner image through two large windows, or a canopy, held up by pillars and with a central pillar dividing the entire image into two separate pictures, left and right.
The left picture shows angels on a cloud pushing demons down with spears; the demons tumble and fall into the wide open jaws of a giant monster (the Leviathon) with sharp teeth. The demons are fallen angels and have wings, horns, and chicken feet.
The right-hand picture shows a standing human-like figure with a halo and a wearing a long robe touching a small naked woman with no feet rising up from the chest or side of a full-sized naked bearded man sleeping in the foreground. There are trees and plants and a small hill in the background. This represents God creating Eve from Adam.
Underneath each panel are phrases in Latin, using an uneven black-letter writing that is difficult to read and uses Latin scribal abbreviations.
The left-hand label says, casus luciferi, which is, The fall of Lucifer (Revelation XII, 7).
The right-hand label is longer, and says, Deus creavit hominem ad ymaginem et similitudinem suam, which is, God created man in his own image and likeness (Genesis II, 22).