Image description for Costume. A.D. 1302 – 1413.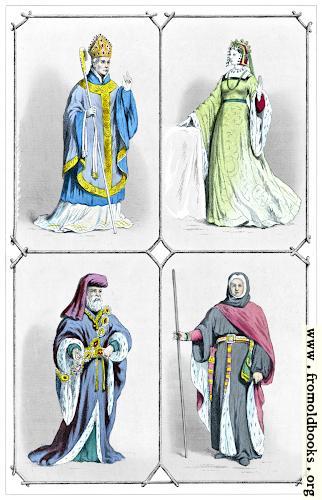 This picture was made by scanning an engraving in a printed book; the drawings are printed in colour.
The picture is divided into four sections. At upper left is a picture of a bishop; at uppre right a countess. In the lower left is an earl and at the bottom right is a judge.
The bishop wears a blue cassock over a white vetment that trails on the ground. Over the blue cassock is a light grey alb with gold fringing. He wears a mitre, has one hand raised with a thumb and two fingers raised (the sign of a bshop giving the blessing) and he carries a bishop's crook. The mitre onhis head appears to be studded with precious jewels.
The countess is wearing a long green dress and had head gear with jewels. The dress had very deep sleeves, perhaps 18 inches or 2 feet (45cm to 60cm) deep and the hems are lined with ermine fur. She has a dark green necklace and we can jsut see up her left sleeve far enough to tell that there is a red sleeve underneath.
The white-bearded earl ears robes that trail some way behind him; grey and purple with fur at the hems and another green floor-length robe underneath. He has a purple head-dress that looks rather like a towel folded up and laid over his head and down to one shoulder, and he has a gold chain and necklace with large red jewels.
The judge appears to be a woman, and is wearing a grey or slightly purpe robe almost to the ground with a red flowing cape lined with ermine fur and tied with a gold sash about the waist. She wears a scarf perhaps around he head, which is grey and white, and holds a staff or straight rod that's a little taller than she is herself. Her shoes are pointy and dark grey.
The division of the picture into four parts is done using a rustic border made of overlapping twigs.