Image description for La Loi: Le faible trouve sa force dans la loi qui le protège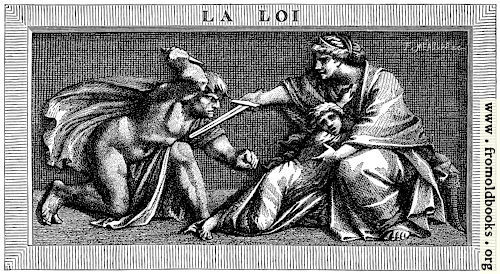 This black-and-white engraving shows, from left to right, a brutish man weilding a knife, crouching on one knee about to stab, wearing only a cloak over his back that doesn't cover his front at all. He has an angry face. In front of the almost-naked man and to our right is a clothed (but barefoot) woman with a sword almost at the man's throat. She is seated, and in her lap is a child, also clothed but barefoot. The woman is protecting the child from the brutish man.
There is a wide border of parallel lines radiating outward all around, and in the middle of the top of the border appear the words LA LOI, which is French for (the) law.