Image description for Tailpiece with Fisherman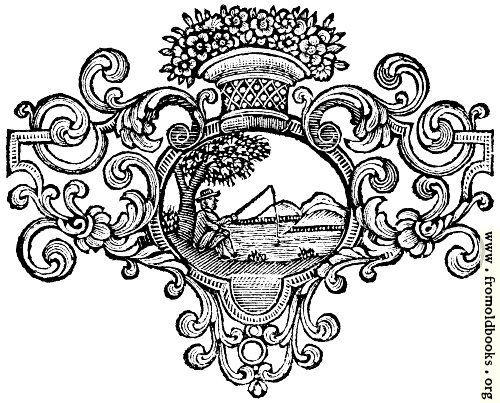 This image shows a printer's ornament, less than an inch across in the printed book. It was an engraving, printed with black (or very dark brown) ink onto paper.
There is an oval frame with a large basket of flowers on the top of it. On either side there is scrollwork, perhaps inspired by acanthus leaves; this also descends under the central oval, meeting a semicircular protrusion in the oval that goes downwards for no obvious reason.
The central oval frame contains a picture: a man sits under a tree next to a wide river. In the background are hills. The man holds a fishing rod up high, the line dangling into the water. He is wearing a broad-brimmed hat, a cloak or tunic down to his knees, and black shoes.