Image description for Engraving: Jesus King of the Jews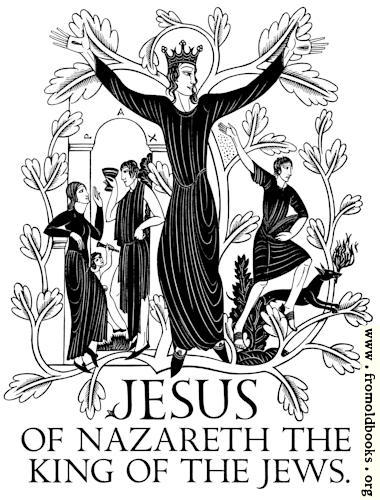 The image is of a smiling Jesus with long flowing hair and no beard. He is nailed to a tree, or rather to a curving vine, perhaps reminding us of "I am the true vine." Behind Jesus, on the left of the picture, the vine curls upwards from ground level to near the top of an arch labled PAX, for Peace, and with three people; a man and a woman in long flowing garments and pointy shoes are talking, smiling, the woman perhaps holding a cigarette and the man a goblet of wine; behing them a smaller (or more distant) figure. maybe a shild, holds up a flute or recorder. The flute looks like a large nail about to be hammered in, but has holed in it, showing it to be a wind instrument.
On the right of Jesus the vine again curls upward, and inside the curl is a man wearing a robe and sandals scattering seeds from his upraised right arm, holding a bowl against his right side; behind him a black dog or fox carries a burning flame, a firebrand.
The men in the picture are clean-shaven and te overall style has some of the streamlined effect one might expect from the 1930s, but the lines, although fluid and curved, are very bold and minimal.
Underneath the picture is the word JESUS, between two leaves of the vine, and under that OF NAZARETH THE KING OF THE JEWS. The J in jesus has a flower on the tail.