Image description for Gospel of Mark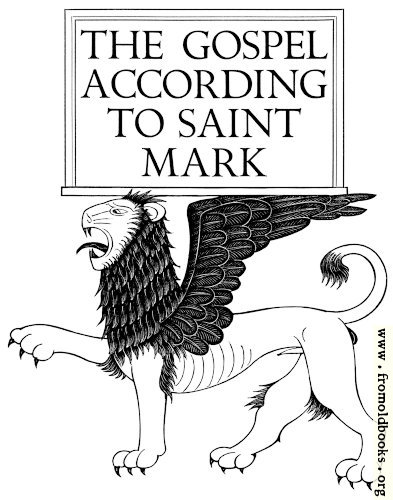 The image is black and white. It was made by scanning a printed book. The image in the book was printed from a wood-engraving which was made by the artist Eric Gill in 1930 especially for the book.
The engraving shows a lion with styilized wings and feathered neck. Above the lion, and touching his head and wing, is a board or sign saying, THE GOSPEL ACCORDING TO SAINT MARK. The sign is almost as tall as the lion, filling more than a third of the image.
The lion is seen side-on, facing to the left. Its right paw is pointing forward as if it was walking; its tongue sticks out from its open mouth; its tail curls up and round to point towards the front, and seems to have claws on it. The lion's scrotum is visible behind its rump and its penis points forward. Some people might suggest this picture is inappropriate for illustrating a Gospel, but I think such people probably have not actually read the Gospel.