Image description for Shepherd Boy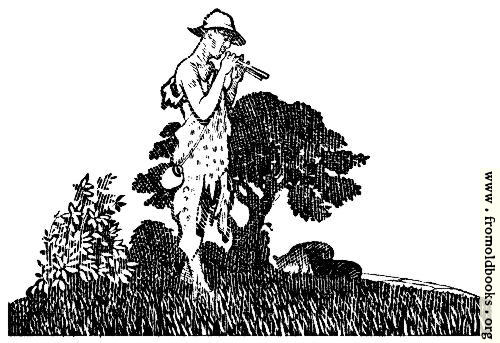 This picture was scanned from an image in a printed book; the image was printed in black ink from a wood-engraving or, given the coarseness of the lines, a wood-cut. Wood-cuts are carved on the side of a piece of wood, where a wood-engraving is made on the end, which is smoother and allows higher detail.
In the picture, a young man, a shepherd wears a broad-brimmed hat and a ragged animal skin, spotted like that of a tiger; he appears to be barefoot in long grass, although the effect is that of a hooved satyr. He is playing twin pipes. He has a jug or ewer dangling from a string over his shoulder, and some other unidentifiable object under his right arm. In the background a tree and, beyond that, grazing sheep. to the left, behind the shepherd, some flowers, and, in the foreground, long grass.