Image description for The Death of Cordelia.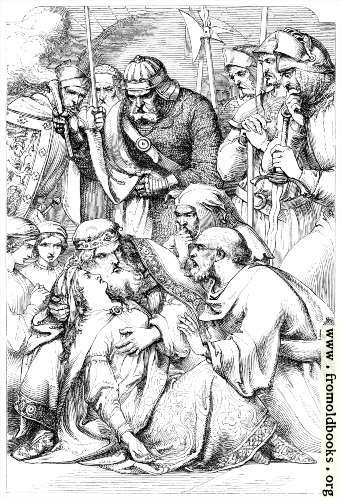 In this black-and-white engraved illustration of the death of Cordelia from King Lear there are thirteen people almost completely filling the frame. In the background a man carries a smoking, flaming torch, and a sketched arch shows we are indoors. A solider carries a shidle with the lion of England on it. Another has a halberd (a sort of axe on a stick) and two or three other knights or soldiers stand with hands on swords. A central figure in the background is a man weainr ring mail and a helmet who leans over looking down at the kneeling group in the foreground.
In the front we have King Leat himself holding the woman Codelia, clutching at her breast and with his bearded face close to her head. Two women kneel behind the two and are praying. At lower right in the front two monks kneel, one with hand over mouth and the other with hand outstretched to touch the king's sleeve.
The overall effect is of many people in a crowded room, all looking very grave.